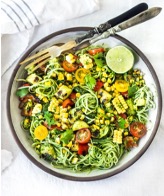 Summer Vegetable Pasta Salad
Vegan,Gluten free, Soy free, Nut free
Ingredients
6

oz

whole grain cooked noodles

2

medium

zucchini, cut in half lengthwise

1

red bell pepper, cut in half, seeded

1/2

onion, cut into 1/2" wedges

1-2

ears

fresh corn shucked (or use frozen, roasted corn)

oil, salt and pepper for veggies

garnish with cherry tomatoes, lime wedges, pepitas, cilantro leaves
Vegan Cilantro Pesto
1

bunch

cilantro and thin stems

2

large

garlic cloves

1-2

tbsp

chopped jalapeno(optional)

1/2

cup

olive oil

1/3

cup

pumplin seeds (raw)

1/2

tsp

salt

1/4

tsp

pepper

1/2

tsp

smoked paprika (optional – only if you like smoky flavor

1

tbsp

lime zest

2

tbsp

lime juice
Instructions
Preheat the grill to medium high.Brush or spray veggies with olive oil, and sprinkle with salt and pepper.

Place the veggies on the grill, lower heat to medium, cover, then make the cilantro pesto. Check the veggies every 5 minutes or so, turning.

Place the cilantro, garlic and jalapeño in food processor and pulse repeatedly until finely chopped. Add the remaining ingredients, pulse until combined but not too smooth. You should have a fairly loose (runny) pesto -perfect for tossing the salad.

Once the veggies are done, cut into bite-sized pieces, and add them to a bowl with the noodles. Add the Cilantro Pesto and the veggies and an additional ½ teaspoon salt (or to taste).

Place on a serving platter or in a bowl, top with halved cherry tomatoes, sprinkle with more pepitas and cilantro leaves and serve with lime wedges.
Optional Add-in's
Cheese, beans, shrimp,fish or chicken
Notes
Calories: 382
Sugar: 4.9 g
Sodium: 243.1 mg
Fat: 27.6 g
Saturated Fat: 4.1 g
Carbohydrates: 32.2 g
Fiber: 2.9 g
Protein: 4.4 g
Cholesterol: 0 mg
Bon Appétit
Spanish Version