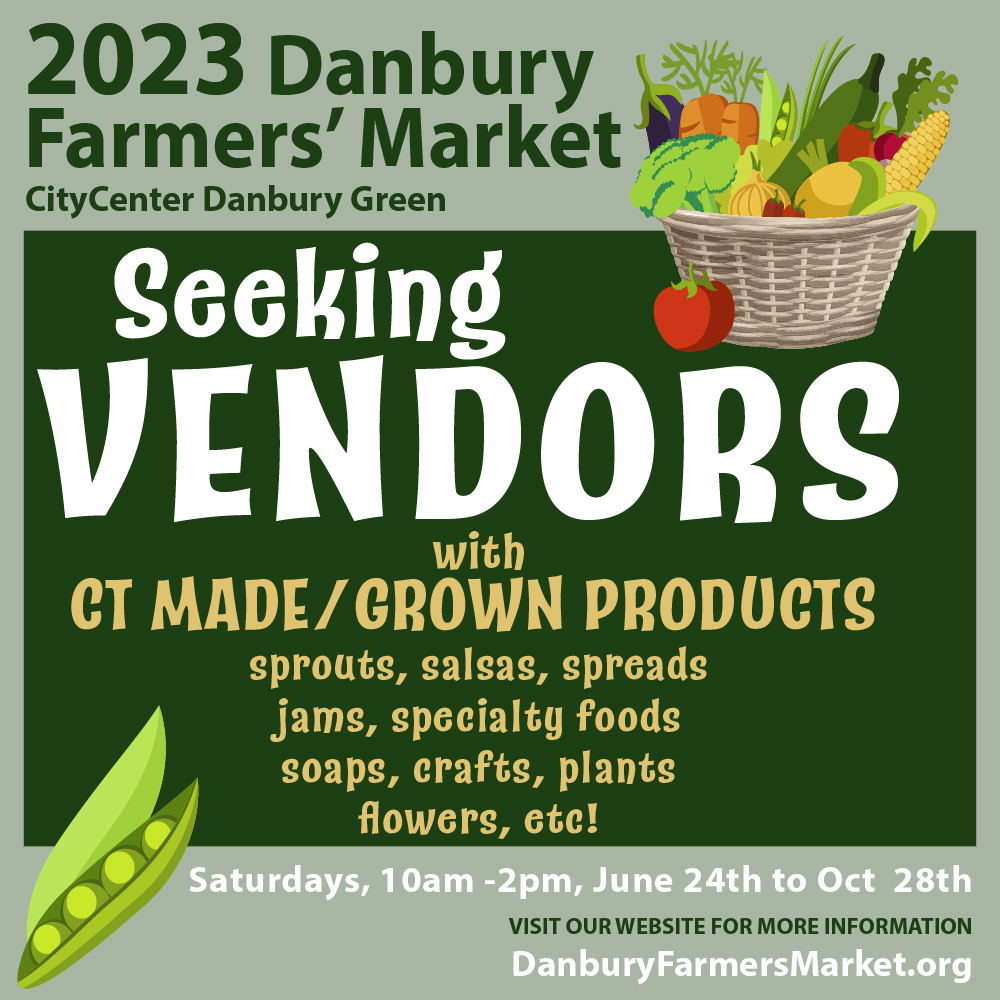 ARE YOU A NEW OR RETURNING VENDOR?
If you are interested in being a vendor for the 2023 season beginning Saturday, June 24 through October 28th, please either complete the on-line application below or download, complete and mail this form to CityCenter Danbury Events, 268 Main Street, Danbury, CT 06810.
Email is our primary source of contacting vendors and sharing timely updates and information regarding the market. Please be sure the information provided is correct (and printed clearly), and check your email regularly.
We do not yet know what the COVID-19 protocols will be. Some restrictions MAY be in place for the 2023 season. If so, all participants are expected to read and follow the guidelines.
Upon receipt of your application, we will review and contact you to go over any questions you might have. Thank you!
GENERAL MARKET INFORMATION
Peggy Zamore, CD-N, MPH
Danbury Farmers' Market Director
Nutritionist, DFMCC
Better Food for Better Health
info@danburyfarmersmarket.org
203-792-1711
---
SUPPORT WE PROVIDE OUR VENDORS
In addition to organizing the Market each week, the Danbury Farmers' Market team provides services and promotions that our vendors and patrons have come to know and love:
Advertise on Instagram, Facebook, Patch, Hamlet Hub and local news outlets each week
Send e-blasts to over 2,000 patrons each week. Mailings include details and photos of the market, calendar of events, recipes, vendor spotlights, special giveaways, and more.
Schedule weekly local live music.
Develop special events focusing on fitness, kids, seniors, vets & more.
Provide fun giveaways.
Facilitate nutrition, health and fitness workshops and activities.
Arrange fun games and reading events for kids.
Promote and double SNAP, WIC and Senior FMNP, Veteran & other incentive benefits. We collaborate with many agencies and funders to enhance some customers' available market $$$. A win-win for both shoppers and vendors!
FEES FOR FULL SEASON DUE MAY 19, 2023
Farmers – $275.00
Other Vendors – $175.00
Includes on-site truck parking
No partial season applicants will be accepted.
Vendor booth space is 10' x 10'. If additional space is required, please email Lazaro Chavez at Lazaro@citycenterdanbury.com.
Vendor area is outdoors.
Tents with weights are necessary.
Space is limited, and available on a first come, first served basis. Reserve your spot early!
Make check payable to: CityCenter Danbury Events and mail or hand deliver to 268 Main Street Danbury, CT 06810.
PROPER CLEANING PROTOCOL
Vendors must clean and sanitize their supplies and equipment regularly. View complete guidelines
RULES AND REGULATIONS
The undersigned Vendor, and those accompanying, hereby agrees to indemnify, protect and hold harmless CityCenter Danbury & Danbury Downtown Council, their officers, employees, agents and representatives for any and all liability for personal injury, property loss or damage of any nature suffered by Participant arising from use of space, facilities or grounds in connection with operation of said show.
All non-farm vendors (i.e. bakeries) must pay for a seasonal permit from the City of Danbury Health Dept.
Danbury Farmers' Market events take place rain or shine.
Any cancelation of farmers market due to weather or unforeseen circumstances will be notified via email. Please make sure you check regularly!
CityCenter Danbury reserves the right to accept or reject applications at its own discretion.
CityCenter Danbury does not guarantee exclusivity for any product category.
No refund shall be granted.
Booth sharing or subleasing is prohibited unless arranged for in advance with CityCenter Danbury. Participants are responsible for the removal of their trash, paper goods, boxes, etc. Trash receptacles are available on-site.
Participant agrees to abide by all City and State tax laws.
All produce must be Connecticut grown with price prominently displayed.
All produce must be displayed/contained within the confines of your booth space.
2023 Vendor Application & Agreement
Questions? Please contact Lazaro Chavez at Lazaro@citycenterdanbury.com.