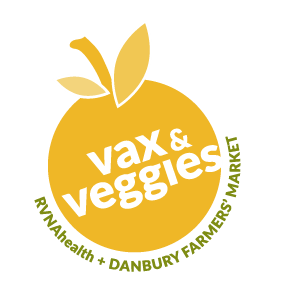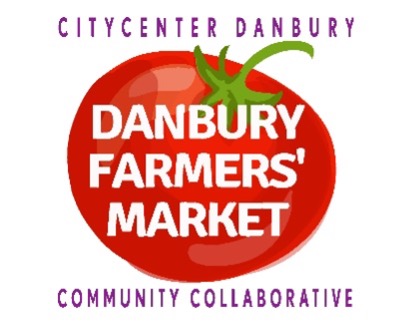 Danbury Farmers' Market and RVNAhealth Team Up for Vax + Veggies
COVID-19 education and vaccines available on summer Fridays beginning June 25th from 10:00am – 12:00pm
120 White Street, Danbury, CT (Danbury Railway Museum

Recognizing that great health is not an isolated incident, but a multi-pronged approach, RVNAhealth and the Danbury Farmers' Market are teaming up to host Vax + Veggie this summer. Vax + Veggie is simple — every Friday from June 25 through August 27, RVNAhealth will be on-site at the Danbury Farmers' Market to provide COVID-19 education and vaccines for all those interested, ages 12+. No IDs or Insurance are required — everyone can just come as they are!
All 'vaccinees' will then receive a $10 voucher to stock up on their favorite Farmers' Market goodies, from vegetables and fruits, to eggs, bread, and more, proving yet again that good health leads to even more good health.
"We're thrilled to be able to offer COVID-19 vaccines to our community members in an easy, no pressure environment," says Peggy Zamore, CD-N, MPH, Director and Nutritionist of the Danbury Farmers' Market Community Collaborative. "Last year, the Market was operational but intensely cautious. This year, we're still very safe, but the vibrancy is returning and it's great to be on the offensive, bringing the vaccine to those who still need and want it."
Vax + Veggie details are as follows:
Vax + Veggies is taking place at the Danbury Farmers' Market located at the Danbury Railway Museum at 120 White Street in Danbury.
Vax + Veggies will run on Fridays from June 25th through August 27th from 10:00am – 12:00pm.
Spanish-, Portuguese-, and English-speaking nurses will be available each week.
No IDs or insurance are required. (Insurance is accepted to cover costs of vaccine administration for those who have coverage.)
RVNAhealth will be offering a choice of either the Pfizer-BioNTech and Johnson & Johnson vaccines. Second dose appointments for Pfizer vaccinees will be scheduled after the first dose.
All those receiving vaccines are required to remain for monitoring for 15-30 minutes following administration.
RVNAhealth nurses have been administering the COVID-19 vaccine since mid-January 2021 and are informed, skilled, and sensitive. For those uncertain about receiving the COVID-19 vaccine, the RVNAhealth team is on hand to address questions and concerns, in Spanish, Portuguese, and English.
"Our mission," says Laura Shulman Cordeira, MPH, RVNAhealth Director of Community Health & Wellness, "is to protect the health and safety of all members of our community. We understand the COVID-19 vaccine, and we also understand the questions and hesitancies that people may have. Our goal is to open the dialogue and be there for those who need us."
The Vax + Veggie program is made possible through the Danbury Vaccine Equity Grant and the many Danbury partners who support it, including: Danbury Health Department; Connecticut Institute for Communities (CIFC); Community Health Center of Danbury; Community Action Agency of Western Connecticut; and RVNAhealth.
About RVNAhealth
RVNAhealth is a private, nonprofit, Medicare-certified organization that provides exceptional home and community health care services, supports public health and safety, and has promoted the highest quality of life for over 100 years.
RVNAhealth's services are categorized into four WELLs —including BeWELL: Services to Keep You Healthy; GetWELL: Services to Recover Your Best Health; StayWELL: Services to Remain Safely in Your Home; and ComfortWELL; Hospice Care to Provide Comfort and Peace. The WELLs represent our continuum of care that serves individuals across a lifetime. Services include wellness and prevention, home health, hospice, rehabilitation, community health, and skilled nursing, among others.
During RVNAhealth's century of care, our name, services, and reach have evolved to meet the care and wellness needs of all those we serve, yet our focus on excellent care, quality and safety, and our guiding philosophy have remained steadfast – the individuals and patients we care for come first.
RVNAhealth serves over 35 towns across Fairfield, Litchfield, and New Haven counties and is headquartered in Ridgefield CT, with a branch office in New Milford, CT.
The Danbury Farmers' Market Community Collaborative's (DFMCC) core mission, through its Better CT Food for Better Health project, is to contribute to a healthy community by providing equitable access to fresh, delicious, nutritious affordable Connecticut grown food and to support CT agriculture. DFMCC, with more than 30 stakeholders representing all facets of the community, is a part of CityCenter Danbury.
About Danbury Farmers' Market
To address produce affordability, the DFMCC doubles the value of many government food programs including SNAP/food stamps for recipients of all ages, low-income seniors, pregnant women and children up to age 5. DFMCC also provides monetary incentives for food insecure folks not receiving other benefits including veterans, seniors, health center clients, food pantry patrons and others.
Additionally, these incentive programs are paired with nutrition and food education to enhance the impact of the monetary incentives.
The Danbury Farmers' Market is unique in that it provides market and community-based CT grown produce education and provides the resources to purchase the produce through a garden variety of monetary incentive programs.
# # #
Questions and Interview Requests:
Nancy Rowe, Marketing/PR
203-438-5555 x1033, nrowe@rvnahealth.org