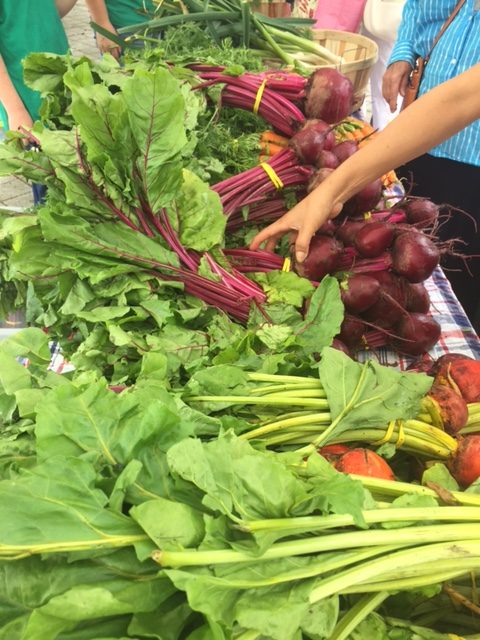 Beets are abound this time of year. They're beautiful, robust, and earthy. I've talked to many folks who carry them home in their market baskets simply because they're gorgeous, yet don't know how to prepare them. I can assure you, cooking beets is relatively easy, albeit a little messy. Red beets especially can stain clothes (it's used as a natural food dye!), so be sure to wear an apron. I also recommend using food handler gloves if you're worried about staining your hands.
There are a bunch of ways to cook beets, obviously. If you're looking for easy-peasy, then I'd say roast them. I find by roasting beets you maintain both flavor and texture. Peeling and cutting the beets into mostly uniform sized pieces is the brunt of the work. Generally, I leave small beets (1" diameter) whole, cut medium beets (2"-3 ½") in half, and quarter beets that are greater than 4" in size. From there, the sky's the limit!
I like to toss them in a little extra virgin olive oil, just to coat, with a little salt and pepper. I scatter them on a baking sheet lined with parchment paper and pop them into a preheated 400F oven and begin checking them after 20 minutes, depending on the size. I check them every 5-7 minutes thereafter forking one into my mouth and checking for doneness "the old fashioned way". Once they've reached a blissful texture, remove them from the oven and let them cool. From that point on you can add them to any number of dishes, or eat them perfectly as they are.
Now, you may be thinking: "It's 90 degrees out. I'm not going to preheat my oven to 400F!" – and no one would blame you! Another really simple way of cooking beets is to boil them stove top. I love doing it this way for when I quick-pickle beets. If the beets are fairly large (4" or more in diameter), I like to cut them into quarters. Leave the skin on! You can easily peel it off after they come out of the cooking liquid. If the beets are little, I just leave them whole. I also think this makes for really pretty presentation later.
This method is good for 3-4 medium to large beets, about what you would get in a market bunch
For red beets (makes 1 quart liquid)
3 cups water
1 cups red wine vinegar
1/2 cup sugar
2 Tbs. salt
1 bay leaf
10 peppercorns
For golden beets (makes 1 quart liquid)
3 cups water
1 cups red wine vinegar
1/2 cup sugar
2 Tbs. salt
1 bay leaf
3 cardamom pods
Bring the liquid to a simmer and place the beets in, either cut or whole making sure they're all of similar size. Check for tenderness after about 15 minutes and every 5 minutes thereafter. Once easily pierced with a knife to the center, remove the beets from the liquid, cool, and store. I like to cool the poaching liquid and store the beets in it.
As is, or tossed with a little fat and seasoning, beets make a beautiful and nutritious addition to any meal. After cooking the roots themselves, consider sauteing the greens and mixing the beets back in!
On of my favorite ways to eat beets is in a salad with crumbly cheese, fresh greens, olive oil, and toasted nuts or seeds. It's so simple, but the flavors knock it out of the park every time. I should mention that this lends itself to adaptation well: feeling fancy-pants? Use golden and red beets. This dish also plays well into the fall. I like to roast the red onions and toss them in there for more rustic earthiness.
Roasted Beet Salad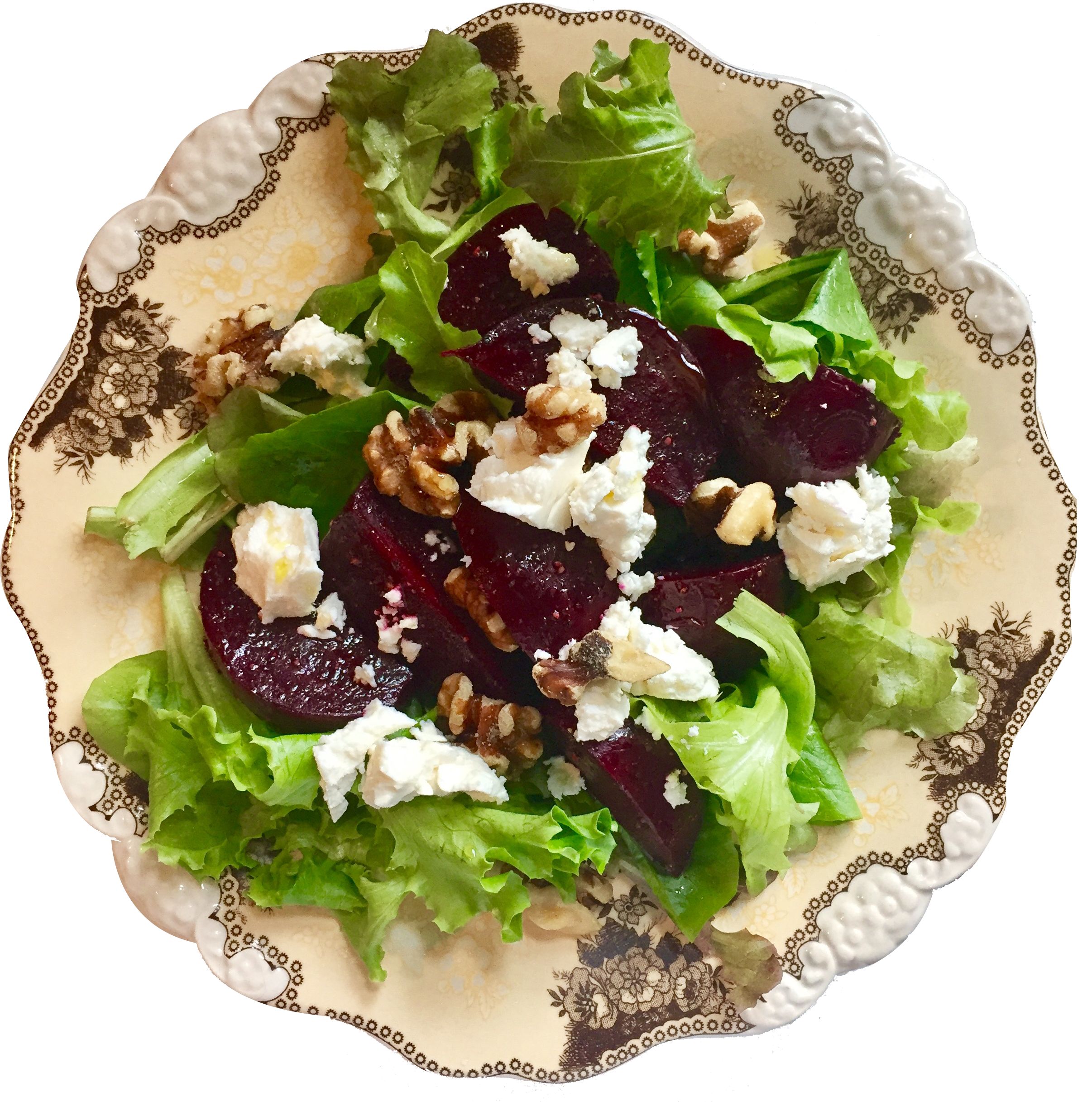 Serves 2 as a main, 4 as a mini
2 cups roasted or poached beets
3 generous hand-fulls of fresh salad greens
¼ of a medium red onion, sliced thinly
1-2 tablespoons extra virgin olive oil (EVOO)
1 tablespoon red wine or balsamic vinegar
Salt and cracked black pepper to taste
Optional
½ cup walnuts, sunflower seeds, or pepitas gently toasted and cooled
3-4 ounces block feta, cotija, or queso fresco in chunky crumbles
Once you have everything at your fingertips, begin by making a bed of greens, followed by the beets and red onion. Drizzle on the EVOO and vinegar. Season with Salt and pepper. Top with crumbles cheese and toasted nuts or seeds, if using.
Enjoy!